The top 3 benefits of a Built Green® home
Learn how the top 3 benefits of a Built Green®  home can save you money on energy costs, insurance, and increase the value of your home.
A Built Green® home is the most energy efficient home that you will have likely lived in to date. An energy efficient home results in consistent indoor temperature meaning there will be less temperature fluctuations that normally occur in the winter or summer months in most homes.  The goal of Built Green® standards is to reduce energy costs associated with heating or cooling your home. Reduce your monthly energy bills and your carbon footprint by embracing the Build Green® standards now
A Built Green® home can save you up to 20% on your mortgage insurance since buying sustainable homes offers immediate energy savings, making energy-efficient homes even more affordable. Maintaining and protecting a home can be costly so every opportunity that a homeowner receives to save money is normally well received.
When you purchase a Built Green® home your resale value should only increase through the years because by 2030 new built homes in British Columbia need to meet the Built Green® standards.  This means that older homes will need to be retrofitted for energy efficient equipment and materials to compete with the energy efficiency of the new homes.  When you choose to be an early adopter of energy efficiency, you will need little to no upgrades when you decided to sell your home.
Skyridge Skysuites took the initiative to construct Built Green® homes in preparation of he BC government net zero initiative which is targeted for 2032.  Skyridge was recently featured in DiscoverSquamish.com and prasied for the high standards and principles that the Skyridge development was developed on.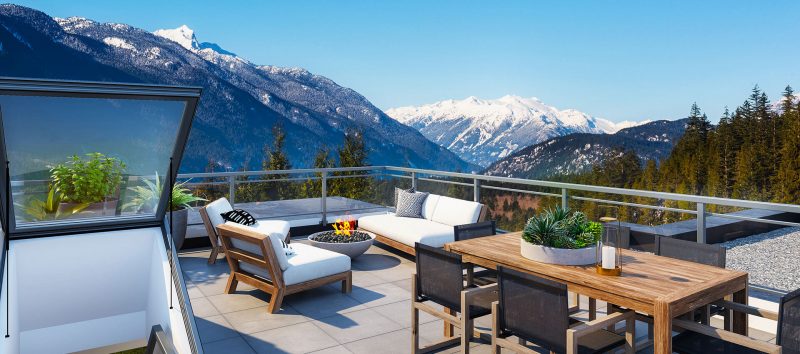 Skyridge Skysuites offers a variety of newly constructed real estate for all different types of home owners.  Whether you are a empty nester, or first home buyer, Skyridge Skysuites has the right home for you.   Learn more about the houses for sale.
Contact Skyridge Skysuites  today and learn about current condos for sale in Squamish.